BWP Awards 2014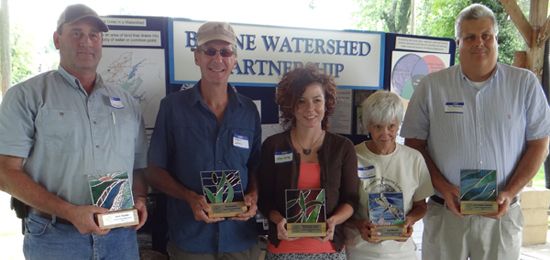 Caption for photo goes here 
Local Government Aquatic Stewardship Award
The City of Bristol has taken a very active role in the effort to reduce storm water runoff into Beaver Creek and its tributaries.  Public Works Manager Tim Beavers serves on BWP's Beaver Creek Committee, providing his insight and technical expertise to help make the Beaver Creek Stream Restoration Project a success.
The city has partnered with the BWP to build a 1000 square feet rain garden to reduce the run-off from the municipal city parking lot that adjoins Beaver Creek.  The city provided all the labor to build this rain garden. 
The City of Bristol has also established a storm water fee will be assessed to city residents and business owners on their monthly utility bills. Projects like flood control, regulatory requirements and capital projects for storm water utility improvements are some of the projects earmarked for funds that will come from the fee.
Farmland Aquatic Stewardship Award
Scott Thomas and his family operate a 200 cow dairy farm in the upper reaches of the Boone Watershed in the Holston Valley community. The farm is 350 acres at the headwaters of Thomas Creek which flows to the South Fork Holston River just downstream of South Holston Dam. Five generations of the Thomas family have made a living on this farm. Conservation practices that have controlled erosion and kept the cropland productive are no-till planting, strip cropping, winter cover crops and crop rotations.
With assistance from the USDA and the Tennessee Department of Agriculture, Scott has made some big improvements over the years that help to keep water clean. In 1990 he constructed an animal waste management system which included a 90'x40'x7'deep concrete tank for manure and wastewater storage. In 1992 additional concrete curbs, gutters, downspouts, pipelines and a filter strip for milking parlor drainage were added. The system now contains all contaminated runoff at the dairy facility. This provides manure storage until the proper time to apply it to nearby cropland for fertilizer. Fencing was also constructed at this time to keep cattle out of some of the streams on the farm. In 2009 Scott began installing a watering system to provide water for his herd in strategic locations throughout his farm. And in 2013 he completed the system along with fencing to exclude the cattle from a spring and the entire stream on the farm.
 The Thomas farm is an excellent example of a farm with a high level of production and good conservation of the soil and water resources to maintain that production far into the future.
K-12 Aquatic Stewardship Award
 The Washington County Soil Conservation Youth Board partnered with Boone Watershed Partnership and several other organizations to complete the "Water Wise" kiosk and rain gardens at the Appalachian Fairgrounds in Gray, Tennessee. The kiosk is a permanent educational structure which educates the community about ways to prevent storm water run-off and reusing rainwater as well as being a great addition to the Appalachian Fairgrounds. The other partners in this project were Northeast Tennessee Master Gardeners, Shady Oaks Garden Club, Barkley Custom Homes, Tennessee Department of Agriculture, Washington County Soil Conservation District, Shoun Lumber, East Tennessee Railway, and Natural Resources Conservation Service.
The kiosk has several elements which reduce storm water run-off at the kiosk. Permeable pavers, rain barrels, pollinator plants, rain gardens, and a green roof were all installed at the site. The permeable pavers aid in letting rain water seep into the ground. The rain barrels collect water from two downspouts that are connected to a building adjacent to the kiosk. The water collected in the barrels is used to water landscaping around the kiosk and plants bordering the rain gardens. Rain gardens are located on each side of the kiosk where downspouts from the adjacent building are routed into each one. The green roof was installed to keep run-off from the roof to a minimum while also making for a beautiful addition to the kiosk. Pollinator plants and other landscape elements also help to attract pollinators such as butterflies and different kinds of bees to the area.
 With the structure being permanent, there is room to grow and add to the kiosk as well as opportunities to educate the community about elements at the kiosk and reusing rain as a valuable resource. The project couldn't have been built without the help from sponsors and the partnerships made through this project. With donations from BWP and the Master Gardeners clubs in the area, the total cost of the project was right at $4,000.00. The Soil Conservation Youth Board provided funds not received from other sponsors and donations. The kiosk was built with volunteer time from the Washington County Soil Conservation Youth Board, Washington County Soil Conservation District Staff members Mara Holley and Brandon Hite, Steve Henegar (Tennessee Department of Agriculture) and Earth Team Volunteers. The Washington County Soil Conservation District Youth Board will be receiving the Tennessee Earth Team Award for their efforts on this project and will be recognized at the Tennessee Association of Conservation Districts Convention in February 2014. A big thank you goes out to everyone who helped with the kiosk and made this project possible.
Civic Volunteer Aquatic Stewardship Award
Joy Stewart is a longtime supporter of Boone Watershed Partnership and its projects.  She served on the Board of Directors for many years, continues to serve as Membership Chair and also serves as an active member of the Technical Advisory Committee.  For several years she has also shared her talent for making stain glass pieces by providing the special awards presented to BWP Aquatic Award Winners helping to recognize the awardees in a very memorable way.
Joy utilizes her expertise as a Master Gardener and her drive to conserve the environment and water resources to educate her local community.  This is demonstrated by the successful implementation of several Rain Gardens she has worked on in the area, such as a joint project (Water-Wise Landscaping Demonstration project) with the Northeast Master Gardener Program, the Washington County Virginia Master Gardener Program, Washington County Soil Conservation Youth Board and BWP at the Appalachian Fair Grounds in Gray to show homeowners in the Tri-Cities area how to have a beautiful yard while conserving and protecting the water supply.  Most recently, she designed the plantings for the rain garden at the Court House parking lot in Bristol which will help prevent parking lot contaminated run off from entering Beaver Creek.  In addition, Joy walks the talk by show casing best practices for improving all aspects of conservation having turned her and her husband Larry's yard into a working rain garden which was featured in the EPA "WaterSense Water-Smart Landscape Photo Contest" where they won second place.
Joy also raises awareness of conservation/water issues by contributing articles to a variety of publications:  BWP newsletter, TWRA Wildlife Magazine etc.  Her latest project to specifically raise awareness of BWP and its projects was to plan and conduct a photo contest.   This major effort has resulted in educating folks who enjoy the waters within Boone Watershed but didn't know they were a part of our watershed, folks we may have never touched without this. 
Because of Joy's tireless dedication to raising awareness of water issues and her role model "walking the talk", I nominate Joy Stewart for the 2014 BWP Civic Volunteer Aquatic Award.
Industry/Business Aquatic Stewardship
AwardSecure-Stor has provide the Boone Watershed Partnership a mini-storage unit at ½ price for 8 years for a saving for BWP of $3,360.00.  In addition, the facilities are ecologically designed with a water management system to eliminate surface run-off and use high efficiency lighting which while saving money reduces their carbon footprint. ½ acre tract at their home is devoted to planting of native grasses and other native plants and 2 large ponds which catch storm water run-off and provide habitat for wildlife.